Kinetic Desk Toy with Mesmerizing Motion
$17.99
$36.90
Save $18.91
Detail Product
BUY TWO FREE SHIPPING!!!
 Kinetic Desk Toy
GyroCon is a precision machined desk toy that creates a mesmerizing optical illusion when spun. Simply rotate it to reveal the mind-bending effect of a continuously flowing helix.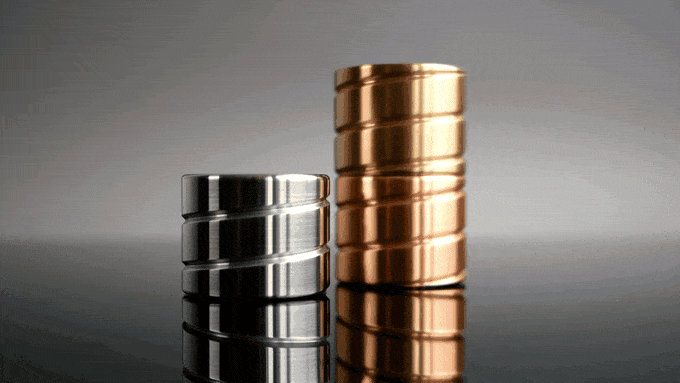 A piece of kinetic art that invites you to transform it from a precisely engineered still shape into a hypnotic optical illusion. GyroCon is made out of solid stainless steel, brass or copper. It has a helix-shaped groove milled alongside the edge that continues as a symmetrical spiral on the top plane. 
The Perfect Desk Companion
When revolving it creates an almost magical effect that looks like a continuously flowing helix merging from the surface of a tabletop.
Perfect for creators, makers, thinkers and anyone who wants to release their inner creativity and imagination. Keep focus, relieve stress or simply relax during working hours or brainstorming sessions.
Mesmerizing Motion
Spin GyroCon and it will turn into a dynamic sculpture that changes its patterns along with direction and speed of rotation. There are multiple ways you can interact with GyroCon - spin it as a single unit or stack them together to make it look even more impressive.
Each GyroCon has a rotating base that is equipped with high-quality stainless steel bearing. 
We love to see the reactions when someone spins GyroCon for the first time. It instantly creates that ''WOW'' effect. The most frequent ones: WHAT?!..., Again please..., HOW?!....:)...
When revolving it creates an almost magical effect that looks like continuously flowing helix would merge into a surface of tabletop. 
GyroCon is designed to spin on any desk or flat surface. The solid body and smooth finish make it very pleasant to interact with. It spins silently so you won't be bothering anyone around.
With our CNC machines, we are able to achieve such level of precision that is rarely found in regular everyday objects. You'll instantly notice minutely milled lines and smooth surface texture upon touching it for the first time! 
I am Kristoph, the creator, and designer of fun toy. You might know some of my previous projects - Moondrop, Vortecon, Gr2 Spheres and others. Together with my two brothers and team, we have created 6 successful campaigns with more than 9000 backers joining us. Our greatest inspiration is the amazing feedback from our supporters.